An Amazing Taste Sensation!
One taste and you're hooked...
The Buzz From Our Customers
Secure one-click checkout with these payment options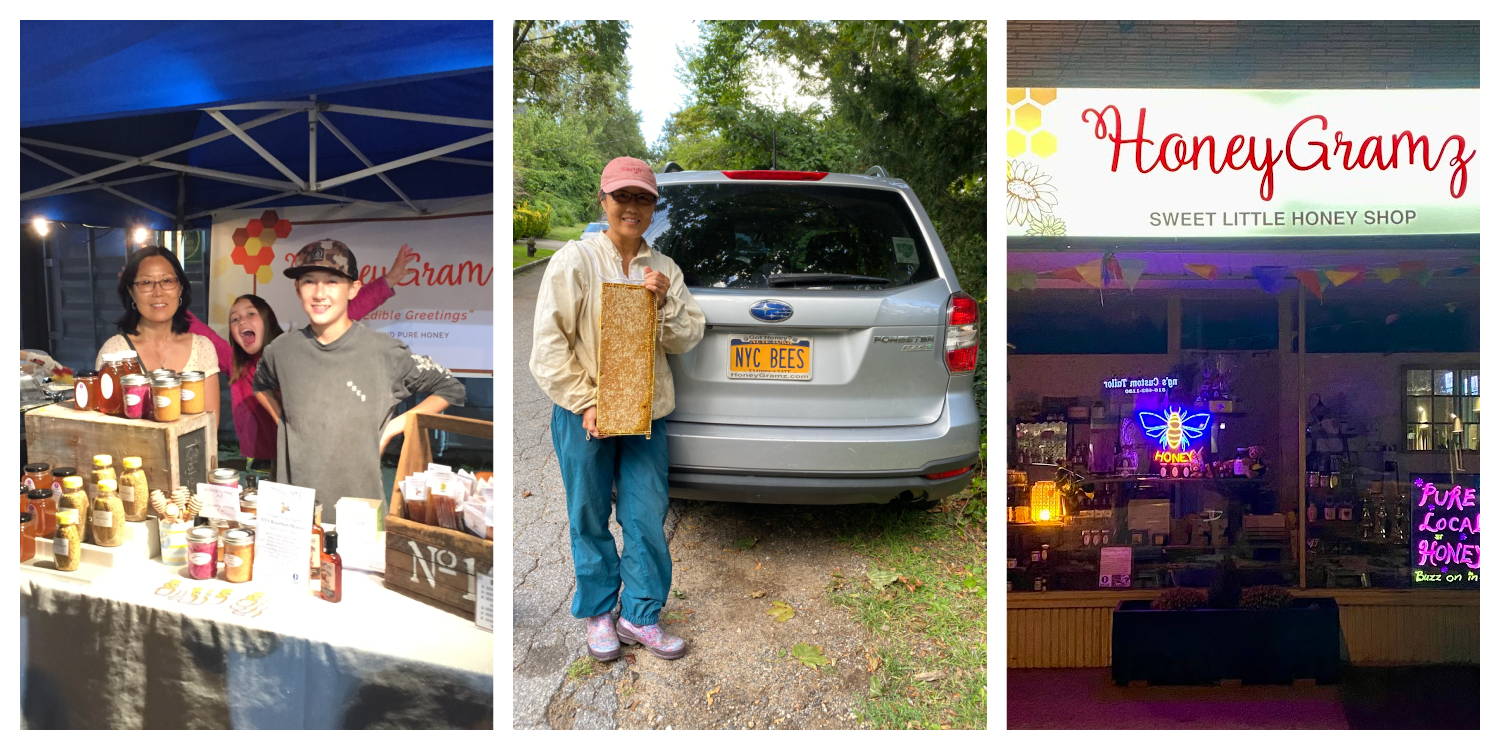 Hi, I am Ruth Harrigan, a New York City beekeeper for over 12 years. My family and I started this journey by gifting honey to our family and friends which led us to start selling our honey at local farmer's markets and holiday fairs. Today we have a storefront honey shop and this website offering our own honey and artisinal honey we source from beekeepers in the USA and around the world!
All the honey that we offer on our website is 100% pure and raw which means they are straight from the beehives. Our honey is never pasteurized, filtered, nor heated so all the health benefits of honey (antioxidants, vitamins, plant compounds, trace minerals, etc.) that are naturally in honey are intact to provide you with a nutritious and healthy alternative to refined sugar and artificial sweeteners.
Did you know that honey is the only food on earth that will never expire?
That's b
ecause there's so little water in honey bacteria cannot grow in this environment to spoil it.
Most people just think of honey as a sweetener for tea but it
has dozens of uses such as cough suppressant, healing wounds and burns
, skin care (it's a natural humectant), it's used in lip balms and facial masks to give your skin a beautiful glow, it can be used as a sleep aid to balance your liver glycogen levels overnight, and of course, it is the original superfood supplying humans for millennia with a dense nutritious source of energy.
At HoneyGramz, we offer many varieties of
monofloral (varietal) honey
from beekeepers like us. Similar to wine, the unique properties of each honey variety
are influenced by the local terroir which affects its
color, t
aste, smell, consistency, and health benefits
. We hope you enjoy our selection of monofloral honeys. In addition, we also blend organic herbs and spices into pure, raw honey to create our
creamed superfood honey
collection.
Bees are important pollinators and they are declining at an alarming rate. HoneyGramz has a mission to help save the bees and all pollinators by donating to 1% For The Planet. Your purchase will help to achieve this goal of making our planet a more friendly and healthy place for bees which will benefit all of earth's inhabitants...Spread the sweetness!
Please feel free to give us a buzz with any questions or email us. Thank you for exploring our
website
.
My beekeeping journey began over 12 years ago with my oldest daughter begging for a dog, which led us to getting baby chickens instead, then honey bees were added to our urban backyard farm and the rest is history.
We're urban NYC beekeepers with a mission to help save the bees and other pollinators by donating to 1% For The Planet. Bees have been declining at an alarming rate which can impact the global food supply as bees are essential in pollination.
Our honey is pure and raw and sourced from either our own local hives or small apiaries, like us, from around the country. We believe in sustainable beekeeping, supporting small local beekeepers who in turn work with small local family farms to help pollinate their crops and bring you real, delicious honey.
REAL BEEKEEPERS. REAL HONEY. TASTE THE DIFFERENCE.

HoneyGramz was voted as the best local honey in Queens, New York. We were thrilled to be nominated by our loyal customer base, and ultimatley win. Thank you to all our customers who voted for us.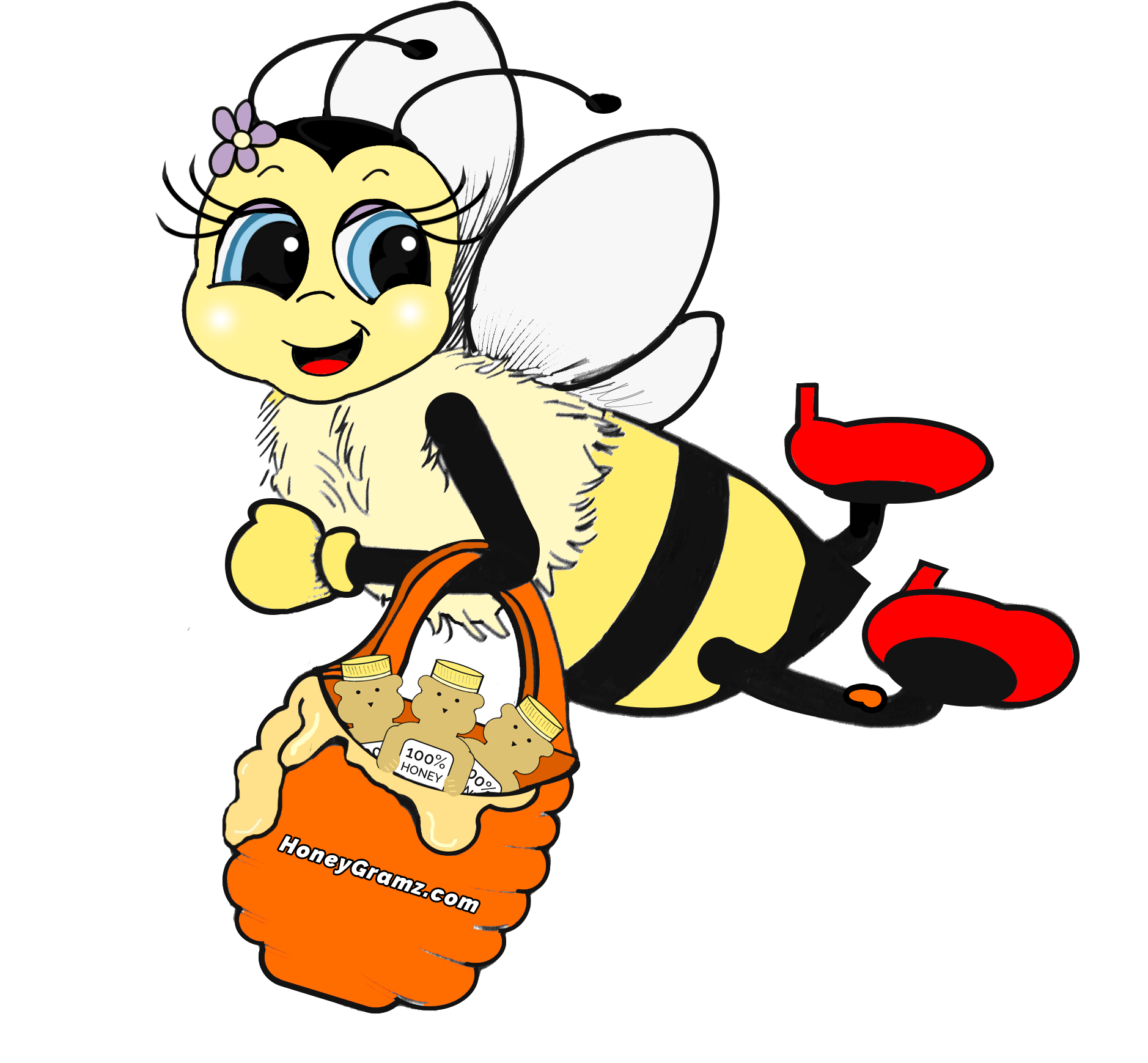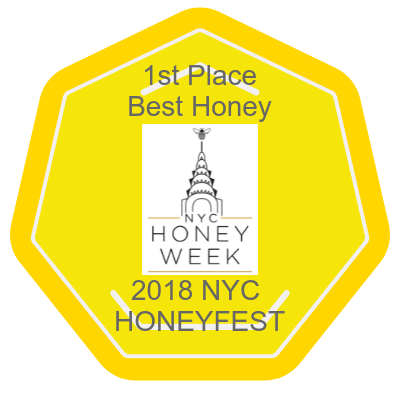 In a honey tasting contest, the attendees of New York City's famous Honey Festival voted HoneyGramz's honey as the best at the festival.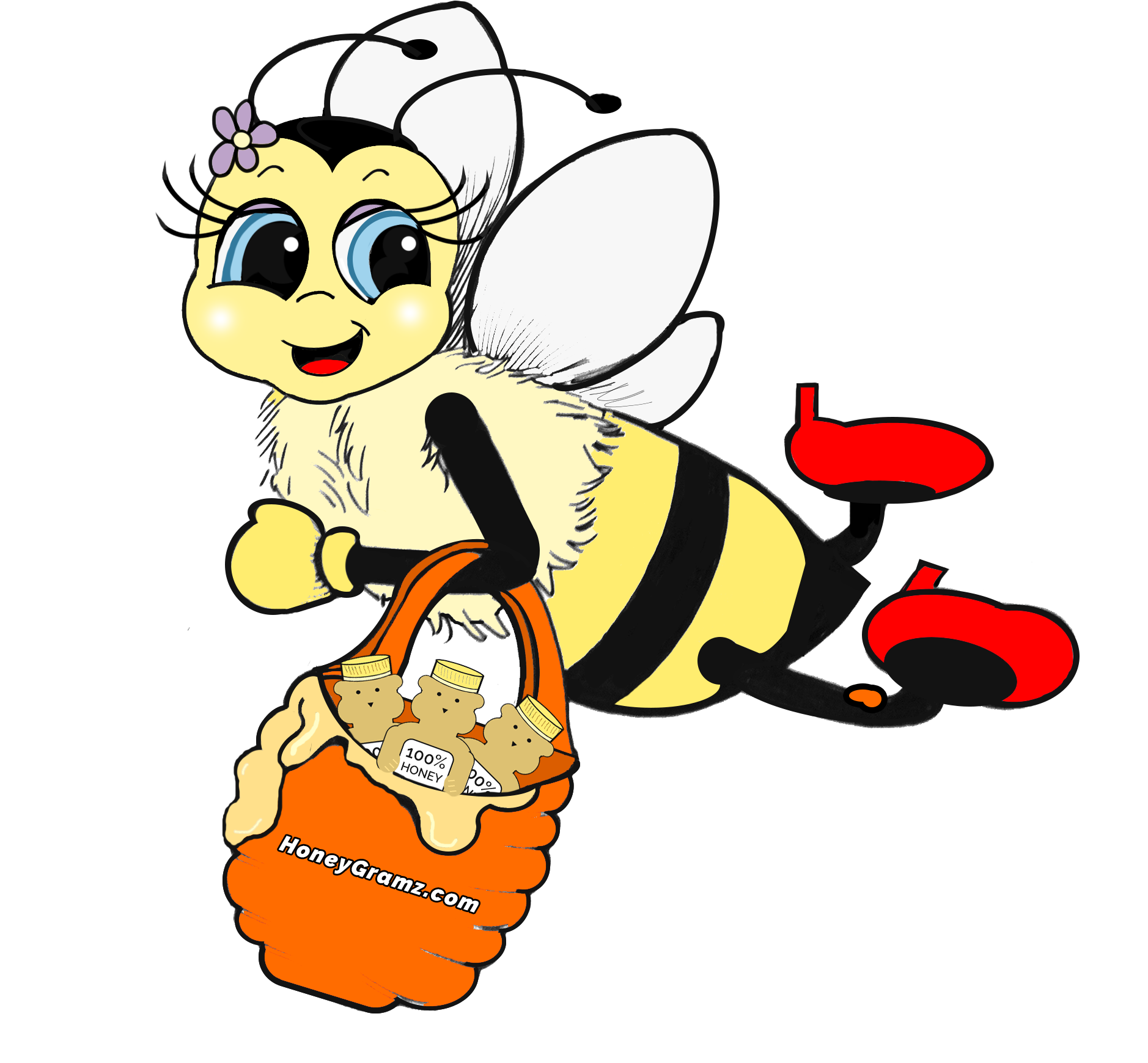 Honey is one of the most adulterated foods in the world. Our honey is created by bees here in the USA, it is pure, raw and direct from the beekeepers. It's why it tastes so good and is so good for you!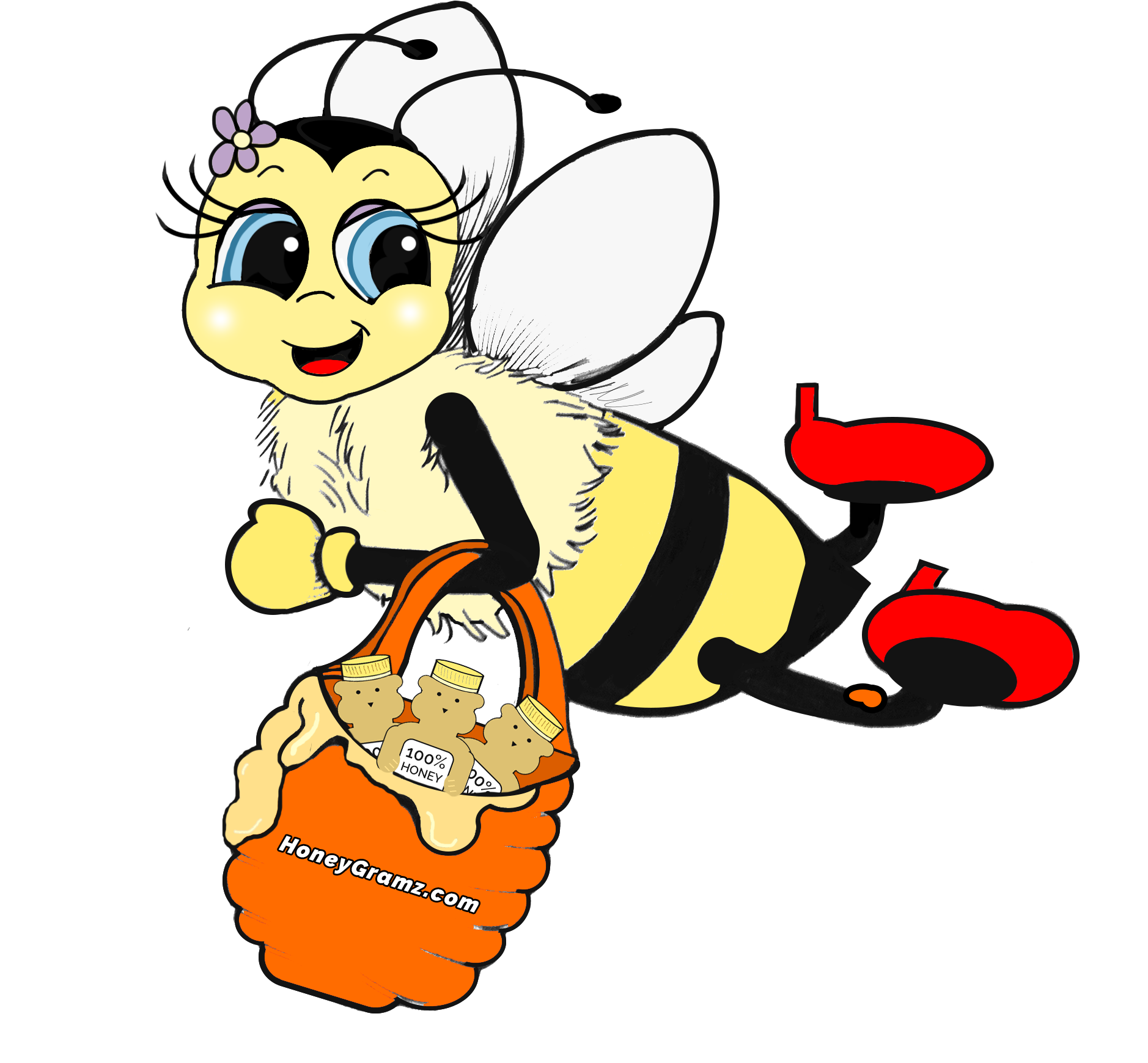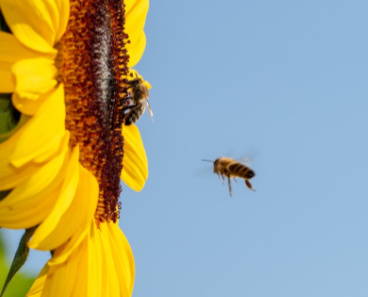 Pollinators are important.
Did you know that there are over 4,000 species of bees in North America? Honey bees pollinate over 80% of all flowering plants, including over 130 different types of fruits and vegetables.
World wide the population of honeybees and many other pollinator species are on the decline. You can help by planting a pollinator garden in your community, in your yard, or in pots on your terrace.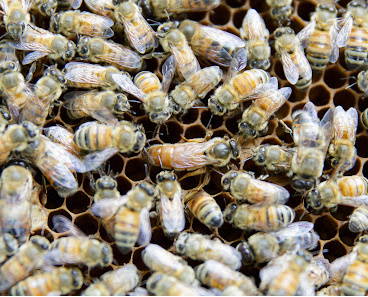 It gets buzzy in a beehive.
During the summer our bee hives here in New York can have about 50-60,000 bees in them.
There is only one Queen Bee, approximately 200 Drone Bees (male) and the rest are all Worker Bees...yes, all Worker Bees are female (just like this beekeeper). The Queen and Worker Bees are the only ones with stingers. Worker bees die after one sting, however, the Queen Bee does not have a barb on her stinger and she can sting multiple times.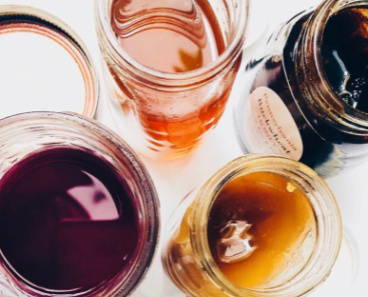 Did you know the color, taste, and smell of honey all depends on what type of flower the bees visit during the collection of nectar. Some honey is very dark with a sharp taste (like buckwheat honey), others can be pale yellow with a mild taste (like Tupelo Honey).
All are great to eat and we love to blend our honey with other natural ingredients to make delicious treats and healthy alternatives to products made with refined sugars and artificial sweetners.

Ginger Honey is delicious and provides just enough kick to be enjoyed in anything that needs a sweet and spicy flavor.
Feeling under the weather? Our Ginger Honey is a perfect healthy sweetener to add to your tea . Start your morning by adding to coffee, smoothies, toast or oatmeal. Use it when you are cooking (ginger honey stir fry shrimp). Add to happy hour by including it in a few mocktails or cocktails.

HoneyGramz is a proud member giving back to
local community groups who care for
pollinators and the environment.
Delivery is on us for all orders over $75!
We work hard to keep our shipping cost
as low as possible for you.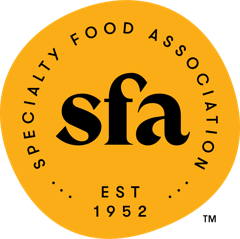 Specialty Food Association
HoneyGramz is a member of this elite
food association, representing food
artisans from around the globe.
Our honey is locally sourced 100% raw and pure honey that's made in the USA. It is unfiltered, unheated and unpasteurized.
HoneyGramz is a family owned business, helmed by Queen Bee Ruth Harrigan. Ruth has been beekeeping for over 12 years locally in and around the NYC area. Ruth also continues the tradition of mentoring future beekeepers (see picture: Ruth mentoring her friend, Aya, in the practice of beekeeping.) just as she was mentored by those beekeepers before her.
Honey is now one of the most adulterated and counterfeited foods in the world. Buying from small local beekeepers ensures you are buying real honey. You will taste the difference immediately!

4. Working to educate and help save the honey bee
Besides donating through 1% For The Planet to local community organizations helping improve the environment, Ruth dedicates time to gives talks on bees, beekeeping and honey at local community groups, museums, libraries, and schools.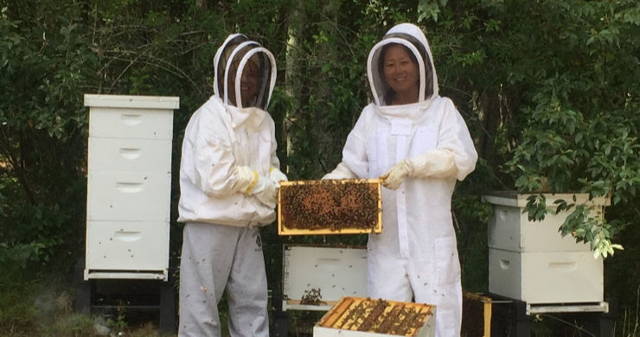 1. Where is the honey from?
Our most popular creamed honey that are blended with different organic herbs and spices are all made with New York State honey. We are a New York City based company and most of our honey is from the United States with the exception of some rare and unique European Honeys. We continue to seek unique honey from different regions. The origin of our honey is clearly specified for each variety.
2. Does honey need to be refrigerated?
Honey does not need to be refrigerated. It will only accelerate the crystallization process which will thicken the honey. Creamed honey may be refrigerated for this reason but not necessary.
3. How long does honey last?
Honey will never expire as long as the lid is tightly closed and protected from moisture. Moisture will cause honey to ferment.
4. Can I feed honey to my children?
Yes, but not to infants under 1 years old as they haven't developed the enzymes to process honey and may cause botulism.
5. How long does delivery usually take?
Nationwide delivery usually takes around 3-7 business days. We will provide you with a tracking number for you to stay updated with the delivery.

6. Why does my jar look half full or have an air bubble in it?
In the cold weather months our creamed honey and other honey may become solidified ("crystallized") during shipping while the jar is left on its side. It may deceptively look as if some honey is missing from the jar. Please be assured all jars are weighed precisely to the amount stated on the label (honey is sold by weight not fluid ounces.)
Net 6 oz. creamed honey weighs 10 oz. with the jar and cap
Net 12 oz. creamed honey weighs 1 lb. 2.8 oz. with the jar and cap
You can leave the jar upright and sealed in a warm part of your home to soften or place upright and sealed it in a pot of hot to warm (but not boiling) water. Make sure the water is below the jar opening, about 3/4 to the top of jar. Please remember you are purchasing raw, unfiltered, and unheated honey and "crystallization" during cold weather is a natural process of honey.
All creamed honey is meant to become thick or solid so it's spreadable with a butter knife. If solid, simple stirring the honey with spoon or knife will encourage it to be more spreadable.
7. Is there added sugar in your honey?
Absolutely Not! All pure, raw honey has a sugar content (17 grams per tablespoon) but this a naturally occurring unrefined combination of fructose and glucose from the nectar of the plants the bees are pollinating. The bees then return to the hive to turn the sweet nectar into honey, a viscous superfood, by enzymatic activity and water evaporation.

8. What is creamed honey?
Creamed Honey is a spreadable honey that's been crystallized to a smooth texture. Our pure raw honey goes through different stages of crystallization from a thick consistency to a solid butter-like state. It retains the same nutritional value as the traditional liquid honey.
Creamed honey is also known as:
Whipped Honey, Granulated Honey, Spun Honey, Churned Honey, Soft Set Honey, Honey Butter, Honey Fondant, and White Honey.
Perfect to spread on toast, waffles, add to tea, in glazes, or just right off the spoon!
9: What are the nutrient facts of honey?

1 Tablespoon
Calories: 60
Carbs/Sugar: 17g (Naturally occurred sugar, NO ADDED SUGAR)
Fat: 0g
Protein: 0g
Cholesterol: 0g
Sodium: 0g
Additionally, honey is naturally filled with antioxidants, vitamins, trace minerals, amino acids, and rich in health-promoting plant compounds.